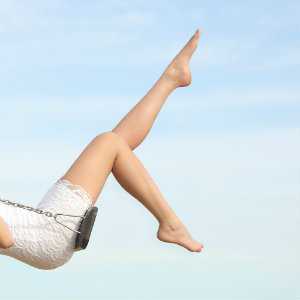 Laser hair removal has grown in popularity and continues to be the number one choice in permanent hair removal – the results can be amazing!
When hearing about the advantages of laser hair removal, you frequently see advertisements indicating "no more shaving, messy depilatories or expensive waxing", which of course is all true. But it's really all about your quality of life.
Imagine never worrying about kissing someone's cheek with the thought of having them feel your prickly facial hair against their face?
Imagine, looking at yourself in the car mirror after a long day and never having to worry about seeing what was missed during your morning tweezing routine?
Or never having to experience the painful, ingrown hairs from shaving or waxing your bikini area?
And for men, how about being able to wear a tee shirt on a hot summer day, without someone commenting on the hair sticking out of the back of your shoulders or neck?
I'm sure that you can relate to these situations, but don't make your appointment just yet. Getting great results is dependent on several factors.
FIRST AND FOREMOST – IS YOUR HAIR LASER HAIR?
For laser hair removal to be effective, the most important factor would be – is your hair laser hair?
Laser hair is darkly pigmented hair. The laser energy can only see brown or black pigment.
Hairs such as blonde, grey, white or red, will not respond to laser hair removal.
Extremely fine hair growth is also not recommended for laser hair removal.
SECOND – ARE YOU A GOOD CANDIDATE?
A good candidate for laser hair removal would be determined by several factors.
Skin Color – While some of the more advanced technologies such as our Lumenis LighSheer Desire, have been specifically designed to safely, quickly and effectively treat all skin colors, we have found that treating hair growth on extremely dark skin, with very little difference between the color of the hair and skin, is usually not recommended. In this case, we would always suggest electrolysis.
Medical Conditions – While laser hair removal is extremely safe and effective on most people, some medical disorders such as conditions that compromises the body's healing ability could have an impact on the treatment.
MOVING FORWARD WITH LASER HAIR REMOVAL – WHAT'S NEXT
So you've established that laser hair removal is for you – what is the next step?
FIND THE RIGHT LASER HAIR REMOVAL PRACTICE – Do your research!
Finding the best practice is the most important part of the process.
Longevity – see how long they have been in the hair removal business.
Check out the reviews – see what other people have to say.
Choose a practice that specializes in both laser hair removal and electrolysis, so that you can choose the method or combination of method's that's suits you best.
Choose a practice that uses the most advanced laser hair removal technology.
Choose a practice that offers free consultations so that you have the opportunity to meet with them and discuss the process.
Pricing should be based on the size of space that needs to be covered with the laser. One person's back or legs are never the same as another's, so why charge everyone the same?
Choose a practice that insists upon a "patch test" 1 week prior to your first treatment.
Choose a practice that always re-evaluates your progress before and after each treatment, eliminating ineffective and unnecessary treatments.
Choose a practice that only allows you to pay for each treatment as you have it. This is a much more affordable way to go!
Choose a practice that spaces your treatments from 2 to 4 months apart. And make sure that you adhere to that schedule! Treatment timing is one of the most important factors in determining effectiveness.
Choose a practice that explains what to expect after a treatment along with potential risks. Normal skin reactions after a treatment will be redness, irritation, possible minimal swelling, and sensitivity. These reactions normally disappear within a few hours to a few days. In very rare cases, a blister or scab may appear. It is not normal to have regular blistering or scarring.
ADDITIONAL GUIDELINES FOR EFFECTIVE RESULTS
Tanning – It's simple – you cannot perform laser hair removal on tanned skin! This will cause blistering.
Temporary methods of hair removal in-between your laser treatments – You cannot tweeze, wax or thread any hair growth once the process of laser hair removal has been started. Shaving is allowed in-between your laser treatments.
Topical skin products – Products that thin the skin such as steroid creams, and topical acne medication, as well as self-tanning products or bronzers are not allowed for 2 weeks prior to your laser hair removal treatment. When performing laser hair removal on the face, make-up that includes mineral deposits or light reflectors are prohibited for 1 week prior to the laser treatment.
Medications – There are several medications that effect the laser response as well as the growth of hair. These medications should be discussed during the consultation.
Antibiotic or steroid medications must be stopped 1 to 2 weeks before your treatment.
Accutane must be stopped 3 months before your treatment.
Hormone medications may interfere with your progress since they can cause new hair growth.
Now that you have all of the facts, it's time to pick up the phone and finally experience the freedom of smooth hair-free skin!